Trophy Exotic Hunts in South Texas
In addition to our world-class Elk bulls, 5CR is also home to trophy Axis deer, Fallow deer, Blackbuck Antelope, Scimitar-Horned Oryx, Gemsbok, and Nilgai. The majority of the hunts at 5CR are by safari, however, Axis, Fallow and Blackbuck are also hunted from blinds.
A $1,500 deposit is due to reserve your hunt. Credit card or Venmo is accepted contact us for more details.
Non-hunters that require an extra room will be charged $150 per night. Extra nights for hunters are $200.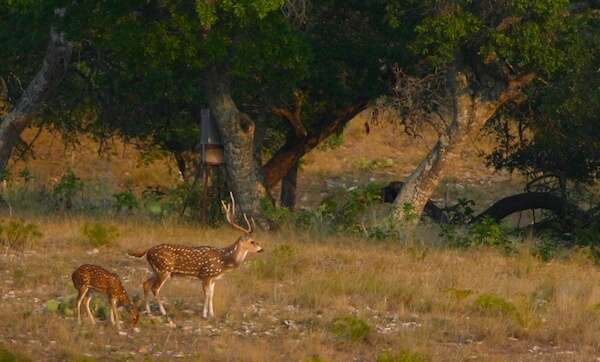 Axis Deer
Native Home: India, Nepal, and Sri Lanka
Cinco Canyon Ranch is home to large herds of axis deer which have thrived in the Texas Hill Country for many years. With our males weighing as much as 250 pounds and females weighing up to 145 pounds this is one of our strongest herds on our ranch. These magnificent animals prefer light brush, grass, and dense thickets of post oaks. It is not unusual to see groups of 30-40 axis roaming across the varied ranch terrain. The fact that axis breed year around makes it not unusual to find males hard antlered in all seasons. Most males are in hard antlers March-December, although bucks with exceptional antlers can be found throughout the year.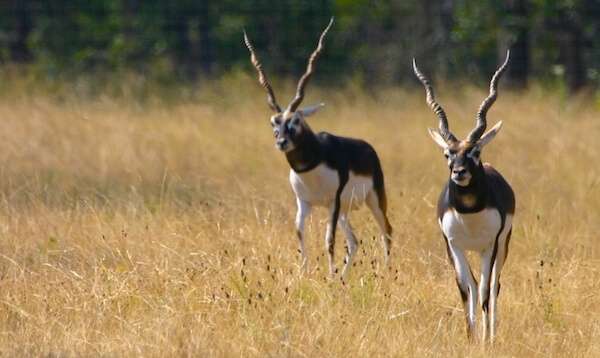 Blackbuck
Native Home: India and Pakistan
Blackbuck Antelope represent another one of the larger herds at Cinco Canyon Ranch. The ringed corkscrew horns of trophy blackbuck at 5CR can measure up to 29 inches. The dominant mature males can be distinguished by their black coloring with contrasting white markings. This species prefers to graze in large grassland areas on the ranch. Blackbuck are another one of 5CR's species that breed year around, but they are most active in rut during the spring and fall seasons.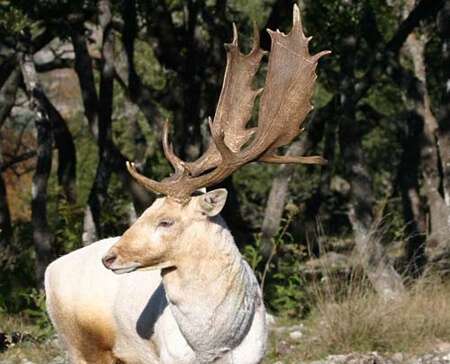 Fallow
Native Home: Europe and Asia
A large population of Fallow deer also inhabit Cinco Canyon Ranch. They come in several color varieties such as: chocolate, white, and menil which is rusty with spots. These animals tend to prefer forest-edge habitat. They are frequently spotted during safari hunts and at feeders located near surrounding tree cover. Bucks are in hard antler mid-to-late August until late April with rut occurring between September and February. Big-bodied males weigh up to 260 pounds and females weigh up to 110 pounds.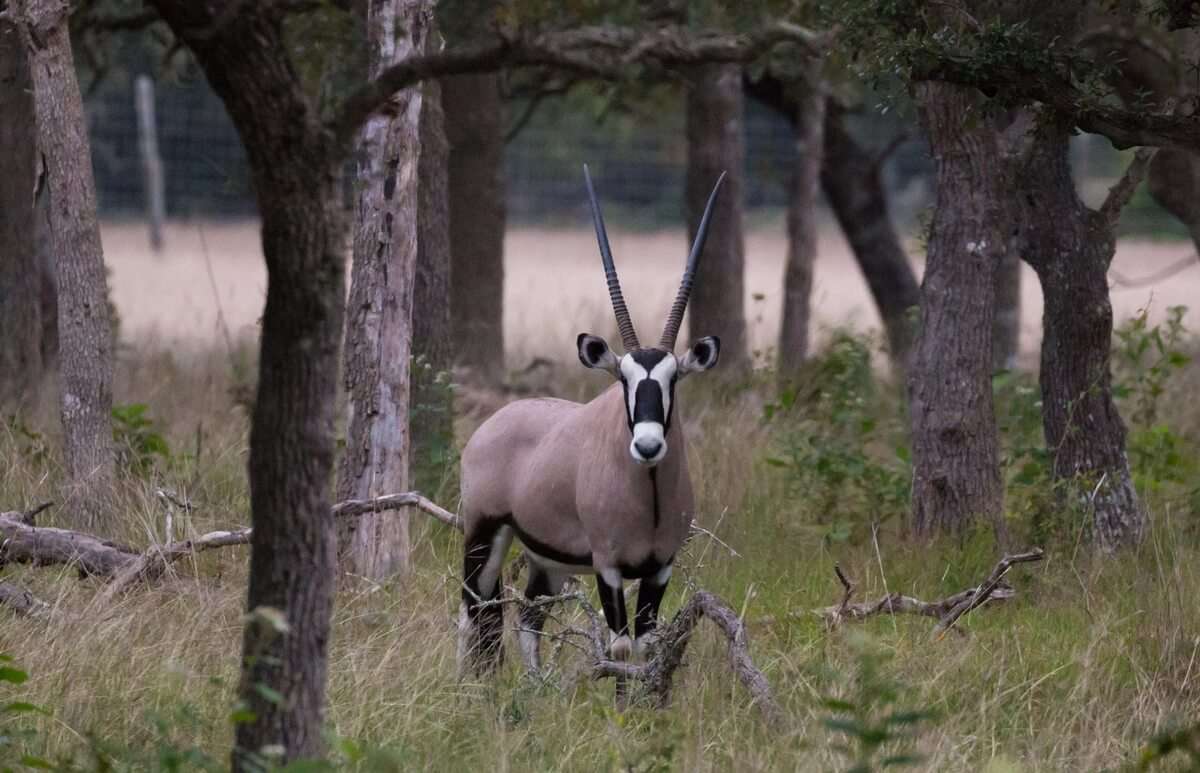 Gemsbok
Native Home: Eastern South Africa and Namibia
This original inhabitant of Africa thrives in the dry climate of the Texas Hill Country at Cinco Canyon Ranch. Primarily grazers, Gemsbok bulls at 5CR can approach 500 pounds with long straight horns that can measure in excess of 45 inches. Females, which also have straight horns, are identically colored with both gender displaying grayish brown coats with distinct black and white facial markings which form a white butterfly when viewed from the front. These antelope prefer to stay in herds. They make for a fast and exciting spot, stalk, or safari style hunt.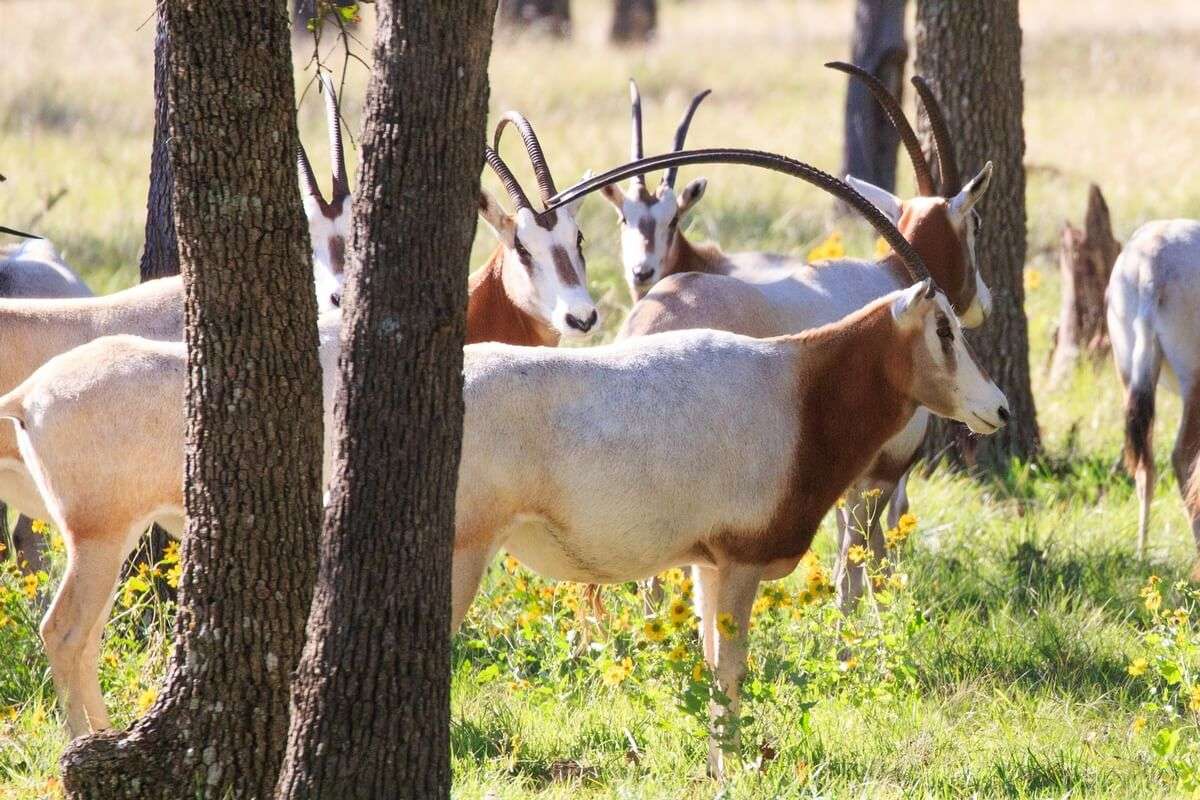 Scimitar Oryx
Native Home: North Africa
One of the most striking antelope at Cinco Canyon Ranch is the Scimitar-Horned Oryx. The adult male and female have long back-swept ringed horns, with white bodies and burnt orange neck and chest. Often, horn measurements for this antelope exceed lengths of 38 inches at 5CR with particularly long males exceeding 44 inches. The males weigh anywhere from 300-450 pounds while the females weigh from 200-300 pounds. These animals are primarily grazers and generally prefer the open expanses and grassland of the ranch. These magnificent antelope make for a fast and exciting spot, stalk, and safari style hunt.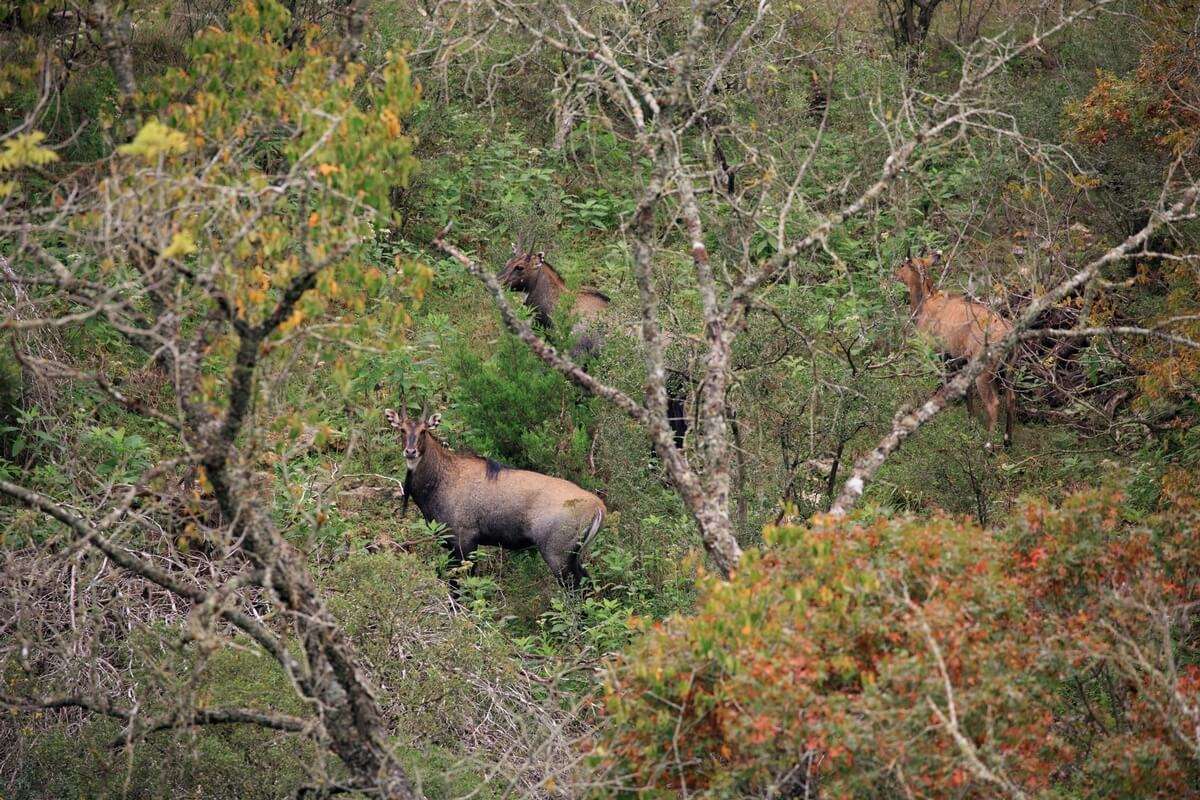 Nilgai - Bulls and Cows
Native Home: Northern and Central India, Southern Nepal, and Eastern Pakistan
Nilgai antelope is another antelope herd that thrives at Cinco Canyon Ranch. The males weigh typically in excess of 500 pounds and females averaging over 380 pounds. The mature males know as "blue bulls" have short, conical horns and are charcoal gray coloring which darkens as the bulls mature. They as well have a magnificent beard. The females are a light brown color. These animals are very skittish, with males banding together and running separately from females except during breeding season December-March. Due to their elusive nature and the amount of ground they can cover quickly, this hunt is mainly done safari style.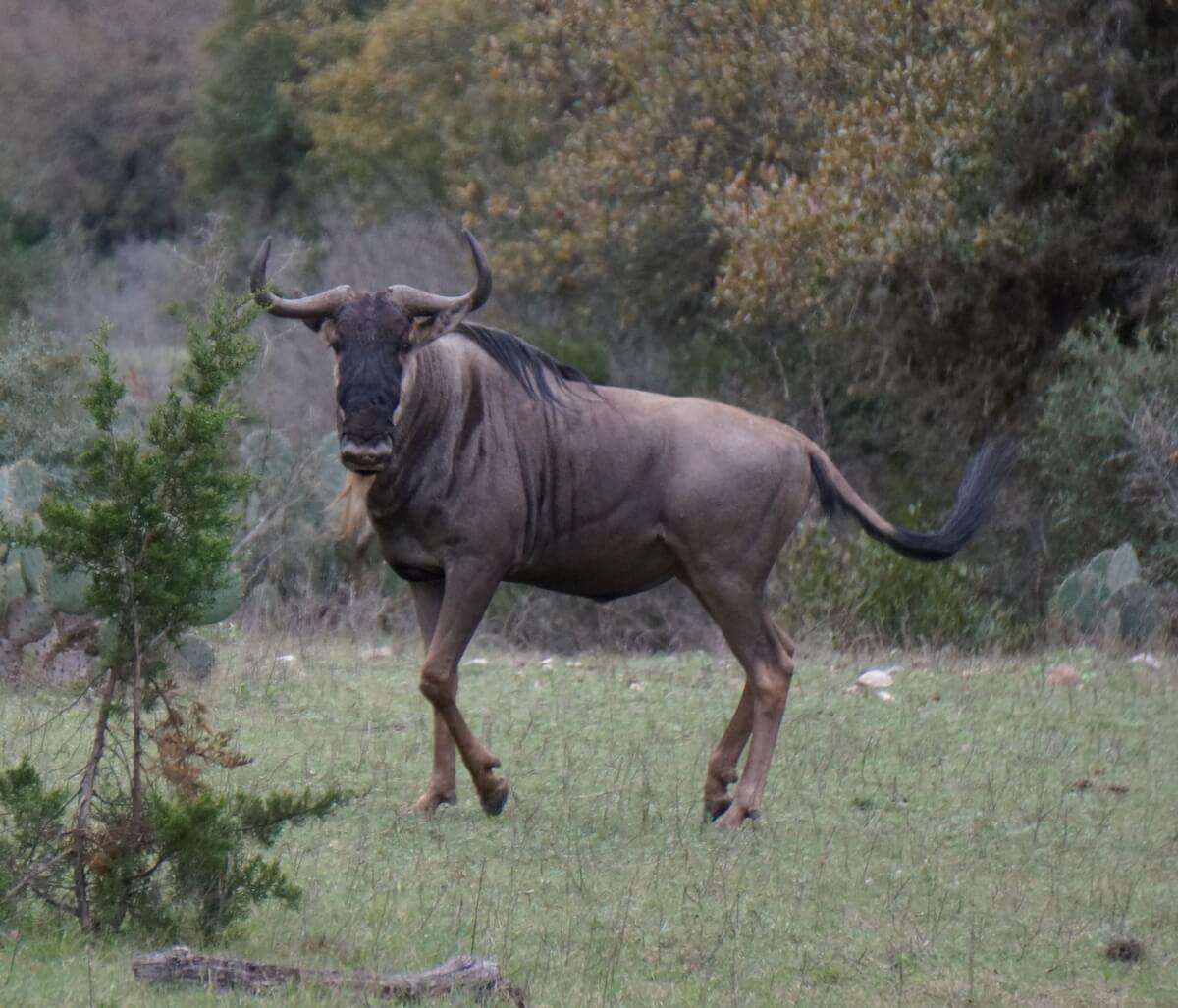 Wildebeest
Native home: South Africa
The wildebeest antelope is also know as the gnu. The horns of the blue wildebeest protrude to the side then curve downwards before curving up back towards the skull. The male of the species stands close to 60 inches at the shoulder and can weigh up to 550 pounds; while the female stands 50 inches and reaches average weights of 400 pounds. Their coat is a dark grey color with stripes, but may have a bluish sheen.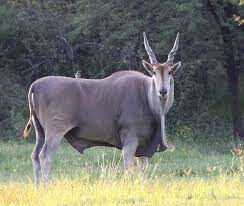 Eland - High Fence Exotic Hunts
Native home: Africa
The giant elands are spiral-horned antelopes. The giant eland is the largest species of antelope in the world. They are typically between 7.2 and 9.5 feet in head-and-body length and stand approximately 4.3 to 5.9 feet at the shoulder. Giant elands exhibit sexual dimorphism, as males are larger than females. The males weigh 880 to 2,200 lb and females weigh 660 to 1,320 lb. The tail is long, having a dark tuft of hair, and averages 35 in in length. The life expectancy of giant elands is up to 25 years. All pricing includes guide fees.
Trophy Exotics Photos Gallery